I have been indulging myself by buying up e-books by Abigail Reynolds. She has a vast collection of Pride and Prejudice variations, each one slightly different, each one having you worry and hope that THE couple will end up together, somehow, someway. They are all like a box of chocolates…you really can't just have one!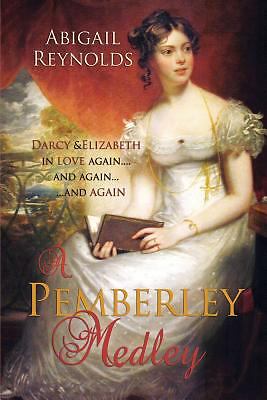 A Pemberley Medley.
A cute collection of short stories featuring my favourite romantic couple. Each one an engrossing variation on the other. This is the first that I have read by this author, and I found it charming.
To Conquer Mr. Darcy.
This variation was shocking. There was more than enough sexual tension in it to actually bore me. I don't wish to be rude or critical, I don't wish to hurt anyone for any reason, but I disagree with the amount of sexual content, and of the actual alteration of the protagonists'characters to enable such content. I have become very familiar over the years with each character in Pride and Prejudice, and this did not sit well with me.
Mr Fitzwilliam Darcy: The Last Man in the World.
I found this variation to be very interesting. While still having some sexual tension, this time it felt like the right amount at the right time, and accentuated a perfect moment in the story. This is the kind of story that engages me because here are the very same two characters encountering and overcoming problems so that they can ultimately be together. Georgianna Darcy, however, was very out of character, and it was incongruent with previous versions (though I guess it could be valid considering her circumstances).
Mr Darcy's Undoing.
Again this is a variation that was interesting, but then became quite uncomfortable for me because yet again we have people behaving out of character, and there is sex in abundance. I admit that this time I caught myself just skimming the sex scenes (and I was NOT tempted to go back again to see what I had missed).
Sex can be a very useful storytelling device, especially when you have two such passionate individuals as Elizabeth Bennet and Fitzwilliam Darcy. Jane Austen was not afraid to mention this in a favourable light in her book, but never went into details (which has always been the charm in her stories). I also understand other peoples needs to indulge in a little sex for these two, as they might have felt a little ripped off after the two of them taking such a long, hard time to finally get together. While Reynolds does her sex scenes very well, I have to admit that it is too much, and even knowing how passionate our couple is, it just isn't possible for them both to have such weakness of character to behave in such an inappropriate way.
I will still read them all (I have six more of Reynolds' books to read on my Kindle app), because I just cannot resist a Pride and Prejudice story.
What Would Mr Darcy Do?
Was a relief. All the angst, fear, suspense, and then gratifying satisfaction (sans sex!). After reading so many of these stories I am going to take a lovely long break and look forward to future indulgences in the new year (which I promise not to write about!).